In Episode 62, Emily and Rachel unintentionally both headed to their home states! Rachel heads to Colorado Springs to talk about the unsolved Lonely Hearts Murders aka the murders of Cassandra Rundle and her two children on Feb. 14, 1985.  Then Emily goes to Gothenburg, NE to tell another unsolved case – the disappearance and probable murder of Christi Nichols. 
Story 1 – The Lonely Hearts Murders
Today we are going back to 1985. I want to acknowledge that my main source for this episode was a podcast called "Colorado Cold Case," which of course we will link in our show notes.
It's Valentine's Day, 1985. Douglas Peltzer, a tattoo artist and, in my opinion, a bit of an odd duck, comes to his ex-wife Cassandra Rundle's house. This isn't uncommon, as the two had stayed close friends, and even had keys to one another's homes. However, Douglas knocks on the door, holding a Creedence Clearwater Revival record as a Valentine's Day gift. Oddly, no one answers. He knocks again. Nothing.
So Douglas walks around to the back door, lets himself inside, and stumbles into a nightmare. Cassie was in her bedroom, naked. She had been beaten, raped, and strangled with pantyhose, pajamas, and a lamp tie. And it gets worse. Her 10-year-old daughter, Melanie Sturm, had also been beaten, strangled, and sexually assaulted. She was still wearing her pajamas. And Cassie's 12-year-old son, Dietrick Sturm, had been bludgeoned and strangled. A bloody hockey stick was found by his bed. All three of their bodies were still warm.
Autopsy reports would later suggest that the family was going about their normal business. Cassandra's body was found face-down on her bed. Melanie was in PJs in her bedroom floor. Dietrick was wearing a hoodie and jeans with dirt on the knees. He was the only one of the three victims who was not bound. Dietrick's pockets held lip balm, a stick of cinnamon gum, geometry homework, and some pretend money. These are children. Tragic.
Horrified, Douglas called the police.
And that is the start of a murders case that, almost 37 years later, is still unsolved.
Before we get into some of the details, let's take a moment to talk about the victims.
Cassie was a 37-year-old single mother. Friends described her as "shy and sweet-natured." She was slight, all of about 95 pounds, with blonde hair and green eyes. She was enrolled in pre-law, with one semester to go before she could go to law school. She had been married and divorced twice, and by all accounts, put her children before anything else.
10-year-old Melanie was kind and soft-spoken, however, she had a "Punky Brewster style." She wore ponytails, different-colored socks, and purple galoshes. She loved animals and had big, dark eyes.
12-year-old Dietrick was a responsible kid, who was kind to his sister. He had brown hair and played hockey.
The family lived in the Ivywild neighborhood, which is slightly south of downtown, Colorado Springs.
When police started investigating the murders, they of course started by taking in Douglas Peltzer for questioning. Not only was he the ex-husband, but he was the one to find Cassie, Melanie, and Dietrick. Remember how I mentioned he was a bit of an odd duck? Well, Sure, he was a tattoo artist, which is super cool, but allegedly he used to wander the streets with his tattoo kit, offering people free tattoos. I'm sorry. What?!?! He and Cassie met at UCCS in 1975 in a behavioral science class.
Doug lived in the little yellow Ivywild Ranch with Cassie and the kids at one point, but after their split, he ended up moving and living less than 2 miles away. Eventually, he said they broke up because his tattoo business – Doug's Tattoos – wasn't making enough money. But they had gone to Red Lobster a couple of times in the week before the murders. 
Melanie's friends would later describe Douglas as being slightly off-putting, and disinterested in the kids. Kind of a fixture at the house, but not someone who would be friendly and engaging. Maybe a little off, but definitely didn't seem to give off pedophile vibes.
After Douglas found the bodies, one of Cassie's neighbors recalls seeing Douglas wandering up and down the street, talking to himself. He was taken into custody but was released. That afternoon, he was back at the crime scene. He told reporters that Cassie was the best friend he'd ever had and that she had taught him that reincarnation was possible. 
He may have been a bit off, in my personal opinion, but the police didn't see him as a viable suspect. 
And neither was Cassie's first husband, Steve. They were high-school sweethearts, and they moved to Colorado together in the late '60s. Cassie's father said that Steve called the kids often. He moved to Pueblo after the divorce. After the murders, Steve quit his high-paying job in Ohio and joined the peace corps.
So, if the husbands didn't do it, where did the police focus?
Police did not name suspects, but Joe Kenda – yes, Homicide Hunter Joe Kenda – told the Gazette that he had every confidence that the killer and rapist would be found soon. Side note, Joe Kenda wouldn't comment on this case in 2020, as it was still unsolved. Plus he needed the permission of the network to speak to reporters… but he said he wouldn't ask for that permission. Sorry about your love of young Joe Kenda because OG Joe Kenda sounds a little like a dick.
Police started to focus more on Cassie's personal life. In summer 1984, Cassie took out a dating ad "seeking one good man" in the Colorado Springs Sun, which is no longer a thing. She described herself as, "Blonde, green eyes, 5'2, 95 pounds." She placed another add about a month later, stating that she was "seeking friendship with a gentleman of character."
85 men had responded to Cassandra's ads, and police wanted to talk with every one of them. They said there was no way to know if the ads would pan out, but it was a place to start.
Of course, the story of the "Lonely Hearts murders" went 1985 viral – discussing the plight of this poor single mom, because she had been working as an executive assistant and had recently put a personal ad in the paper. 
Friends were pissed that the ads were given so much attention. Her best friend, Mary Jo, said Cassie had lunch dates with 12-15 men but only met a few of them a second time. And this was months ago. They were like, stop slut shaming… essentially.
Mary Jo described guys as secondary in Cassie's life, she said that you only go to lunch with them unless you like them, in which case you can go to dinner with them. They had some pretty strict dating rules. She also mentioned that Cassie was incredibly focused on her children – they were her top priority.
In a heartbreaking detail, Mary Jo and Cassie had made a pact – if neither of them had a date for Valentine's Day, they were supposed to have dinner together.
But police kept looking at the ads as an incentive for someone creepy to get access to Cassie. This is crazy to me now. I met my boyfriend on Hinge; And I know that you've been on Hinge. SO, I think it's so commonplace now that it wouldn't be the main focus of most investigations, although I definitely flat out asked if Donny was going to murder me before I met him.
After investigating every man who had ever thought about Cassie after the personal ads she'd placed months earlier, police hit a wall. They interviewed neighbors, some of whom said they had heard yelling in the home in the previous weeks, but they couldn't identify whose voices they were. Cassie was a mother to teenagers… honestly, I'm sure my neighbors have heard me yell at my kids once or twice, even though I'm generally not a yeller. So, I don't give that particular detail too much credence.
Within 6 weeks of the murders, police had interviewed over 400 people. They narrowed the suspect list down to 4-6 people, said police captain Vic Morris. He said that they needed test results from the FBI and Colorado Buru of Investigation. No arrests were ever made. Although they took over 100 items from the home, no one knows how much DNA was preserved. In addition to the 100 items, like hair and fibers, they sprayed the house down to look for fingerprints.
They had the house for about a month, combing through, looking for evidence. Unfortunately, DNA evidence was not collected super well in 1985 in Colorado Springs. They also hoped that the killer would return to the crime scene, so they stayed in the house for a while. That is seriously how you get haunted. Detectives also went back on the anniversary for the first 2 years after the murders, asking the tenants to find another place to stay for the day.
Back in the mid-80s, the homicide-solve rate was at 92% in Colorado Springs, so the officers were putting pressure on themselves to solve this case. Dick Reisler (Rise-ler) was the lead detective. Ultimately, he stated that they had a pool of suspects, but not enough evidence to arrest/convict anyone. The DA even got a grand jury together. Dick Reisler, in 2012, told the Gazette that he thinks he knows who did it, but he has never identified who that is. He says that if he was on the jury, he probably wouldn't convict him either.
He says that when police say they know who did it but there isn't enough evidence, he realizes "maybe we should keep our yaps shut because we don't really know who did it."
And the case went cold.
Let's get in our DeLorean and jump forward to 1991, shall we? We're going up to North Carolina. One July evening, Philip Wilkinson, a young "attractive," sociopath – I mean, soldier, walked into a Fayetteville police station and said he needed to get something off his chest.
Five months earlier, Crystal Hudson, a 19-year-old cosmetology student, had been peacefully sleeping on her couch. Phillip was a peeping Tom, which is too cute of a name, so I'm going to call him sexually deviant. He had been driving around, looking for someone to rape, when he came upon an apartment complex. Outside, he found a bowling pin on the lawn. Phillip picked it up and continued to wander until he came across Crystal's apartment.
All the trigger warnings on this one, guys.
Phillip Wilkinson let himself into Crystal Hudson's apartment. As if he knew her, he caressed her softly to wake her, then began bludgeoning her with the bowling pin. He raped her, and then murders her. Also in the apartment, Phillip found Crystal's mother, 38-year-old Judy Hudson, whom he killed and then raped postmortem, even using a lightbulb to further desecrate her body. He also killed Crystal's 11-year-old brother, Larry Hudson Jr.
Afterwards, Phillip left the apartment, and jumped a couple of fences, but then decided to go back to get the lightbulb, in case it had his fingerprints on it.
His confession was monotone and straightforward. At some point, he stopped and asked the officer "you seem to be taking this extremely well. Doesn't any of this bother you?" Fucking. Psychopath. Also, apparently, Phillip walked in with a pastor. Because he found region. He had also previously been arrested for domestic violence in Colorado Springs. He was apparently well-spoken and good-looking, and he was worried that he would become "another Ted Bundy." So. Many. Eyerolls.
Phillip decided to confess because he had been in New Orleans, trying to bust into a woman's hotel room with a credit card and was scared off by a security guard. But don't you worry, because God found him, and told him that he needed to confess.
Did you catch the detail that he had previously been arrested in Colorado Springs? Because there are some similarities between the brutal triple murders in Fayetteville, NC and the one in Colorado Springs. For example:
A found object was used to bludgeon. Both mothers and daughters were raped. And a brother was killed.
In his confession, Phillip Wilkinson denied the Colorado Springs killings, but the Fayetteville police department was all, "yeahhhhhh no," so they gave the CSPD all the information they had on the case.
Richard Rundle, Cassie's father, was all about Phillip Wilkinson as the culprit. He was so sure that this man was the person to blame for the horrendous murders of his daughter and grandchildren.
But quickly, CSPD, was all "we don't think he did it."
Police told Richard Rundle that the timeline did not match up, as Phillip Wilkinson would have been stationed in Korea at the time of the murders.
However, military records say otherwise. Phillip would have been 17-years-old in February of 1985, and he had recently been stationed at Fort Carson, in Colorado Springs. Like, a week before the murders. He had confessed to peeping, AKA engaging in sexually deviant activities while in Colorado Springs. Phillip left active duty and joined the reserves in 1987, but re-enlisted in active duty in '89. It was then that he was stationed in Korea.
CSPD has not provided any other information on why Phillip Wilkinson was ruled out as a suspect, but he was cleared. They declined to comment on the podcast I listened to.
Richard Rundle does not think CSPD did their due diligence. He was so convinced that Wilkinson was the one who murders his daughter and grandchildren that attended his death penalty trial in 1994 in North Carolina. Richard Rundle died with the case still being unsolved. 
At the death penalty trial, Phillip Wilkinson pled guilty to the rape and murders of the Hudson family. After hearing his confession, saying he only killed Crystal because he was drunk but would have only raped her if he was sober, the jury chose to inflict the death penalty. Wilkinson appealed, leading to years of litigation, but his federal appeal was declined in 2007. He is currently still on death row in North Carolina. He's 54 years old. He has never confessed to the murders of Cassie, Melanie, and Dietrick.
The little yellow ranch in Ivywild was flipped and remains a rental property – I would not want to live in that house.
Back on Valentine's Day of 1985, there was no forced entry and no sign of robbery. But the furniture was in disarray and it looked like there had been a fight. There was blood scatter. 10-year-old Melanie's wrists were raw from trying to get out of her binding.
Now, if the CSPD still has the ligature used to strangle the victims, there would be a solid chance that there is still DNA on it. Then they could use genetic genealogy, a la the Golden State Killer.
Melanie was beaten most severely – most of her blunt force trauma was to the face and the head.
Even though the bloody hockey stick was found next to Dietrick, there was no evidence of blunt-force trauma in the autopsy. It seems as though Dietrick was overpowered then strangled quickly. No one has commented on the order of who was murdered, but the general consensus is that there was quite a bit of psychological tormenting as well.
Today we need about 1000 times less DNA to complete a case than we did in 1985. And we know that DNA can last for decades… if it is properly stored. Also, testing would cost $500-$700 per item, and remember, police took over 100 items from the home. And CSPD does not have the budget for that. But really, testing the ligature would probably be most effective. And potentially, if the evidence still exists in decent condition, the case could still be solved.
But as of this recording, the Lonely Hearts Murders, AKA the murders of Cassandra Rundle, Melanie Sturm, and Dietrick Sturm, are still unsolved.
Story 2 – Disappearance of Christi Nichols
Trigger Warning: Domestic Violence
This crime took place on December 11, 1987 (SOOO close to missing our cut-off, and technically we were both alive when this happened, but we make the rules and I say that as infants we weren't really "aware" so it still counts).
Here's what happened that night. Twenty-two-year-old housewife Christi Nichols and her husband Mark Nichols hired a babysitter, Diane Janssen, and went to the local bar where Christi worked. Diane was surprised that they were going out because she knew that they were not getting along. He claimed that when they were at the bar, things seemed to being going well between them. He felt that she was having a good attitude about herself and that there was a lot of laughing and carrying on between them. His uncle Gary, who owned the bar, contradicted his story, stating that it was apparent that there was "tenseness" between the couple. She had told Gary that they were having marital problems; he was surprised that they were there together that night.
Christi and Mark left the bar around midnight and drove to an all-night convenience store. A store clerk later recalled that she seemed "nervous". At 12:30 am, they left the convenience store and that was the last time anyone saw Christi Nichols alive.
Around 1 a.m., so not that long after leaving the store, Mark arrived at the house to relieve Diane from babysitting. Diane was chilling in front of the TV, doing her homework when Mark walked in. She had her back to the front door, but when she turned around it was just Mark standing there. She asked where Christi was and he said "oh, she walked in first and went straight to the bathroom… you just missed her." Diane of course thought this was a little weird – who walks into the house and doesn't greet the babysitter they have there and also why didn't Diane hear footsteps or rustling around or anything like that… she was there for several minutes after they arrived home. It wasn't like she hurried out the door within seconds after they arrived home.
Anywho, Mark paid Diane (oddly, with cash when normally Christi paid with a check) and she went on her way.
Like I said before, Christi Nichols has never been seen since this night. She was never located and her body was not found either. She simply vanished.
But, you know, people don't just vanish. Especially not young mothers with two children at home and especially not young mothers who two days prior to their disappearance visited a divorce attorney in the next town over.
Let's just say what we're all thinking… the husband did it. Of course, without a body things are a little trickier than we'd like them to be. So, let's travel back in time and talk about the Nichols' life leading up to Christi's disappearance. Then we'll chat about possible scenarios that may have happened, hear Mark's side of the story and hear from Shandell who currently lives in Gothenburg and has some of the inside scoop on what people are thinking about this case 34 years later.
+++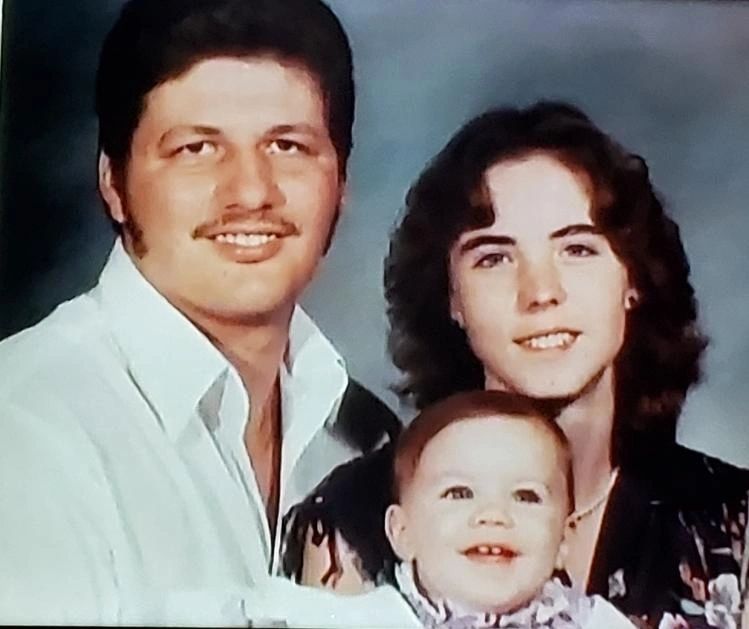 Alright, let's start by walking through the timeline of events leading up to this disappearance. It starts three years before when Christi married Mark when she was just nineteen years old. Soon after their marriage, their daughter Lindsey was born. In April 1986, their son Preston arrived. Now, despite welcoming these two bouncing bundles of joy, it seemed that Christi and Mark were not happy. Editorializing here, I'd say they probably weren't too happy because Mark abused Christi. He denies this of course, but just 10 days before her disappearance, she had gone to a local hospital for treatment of an injury she received during a fight with Mark.
Now, since Christi disappeared we don't have her side of the story, but Mark that the fight occurred when he tried to keep Christi from going out then SHE got upset with him, tried to hit and kick him, and then burned his neck with a cigarette. He claimed that he tossed her onto the bed and she landed the wrong way, twisting her thumb underneath her. As an aside, they made a point of mentioning that the bed was a waterbed which just took me BACK to the 80s so fast. I think my parents had a waterbed for a short time … or someone I knew had one … because I REMEMBER that feeling of getting into the bed and feeling the waves. Yikes.
Anywho, Christi had hurt her thumb when "she attacked Mark" (eye roll) and they did go to the hospital to get it checked out. This scene played out like your classic abuser and abusee scene. Mark stayed close and Christi didn't make eye contact or talk much. Eventually, the doctor, Dr. Carol Severeid Shackleton, asked Mark to wait in the hall and tried to give Christi the opportunity to tell her what had happened, but we've all heard this story before. I'm sure Christi didn't want to rock the boat because the police just don't do much for abused spouses until it's pretty much too late. 
I looked up what the process is for reporting someone for domestic violence and it made me sad.
Once anyone has called the police with a report of domestic abuse, police come to the site of the alleged incident. Police can always make an arrest where they believe that there is probable cause that a crime has been committed. Some states leave the decision to arrest up to the discretion of the officer, whereas others require mandatory arrest if there is probable cause to believe there was an injury or a violation of an order or protection, among other crimes. There are an alarming number of instances when the abuser turns it on the victim and actually gets the victim arrested, by the way.
Once someone has been detained for domestic violence, they may be held for a given time, depending on state law, or released on bail. Over time, the district attorney will gather evidence and decide what charges to file, if any. The district attorney is the final decision-maker as to whether charges will be filed. The evidence may include records from 911 calls, medical visits, testimony from the victim and any witnesses or photographs of the crime scene. The district attorney's decision about whether to press charges is based, in part, on the quality of the evidence collected.
I understand the long grind of the legal system – and on the one hand I am glad they are thorough because even one innocent person being in jail is horrible… but that process just sounds dangerous for the woman. There is so many opportunities for that person to get out, come back, take revenge… I'm sure these women are weighing the risks the entire time they are in this situation.
And sadly, staying with the abuser is often the answer. 53% of battered women stay involved with the perpetrator because they blame themselves for causing the violence. Women are six times more likely to be murdered by an ex-partner than a current partner, and in the period immediately following a separation, they are most at risk. Is it really any surprise that on average it takes a woman 7 tries to actually leave an abusive situation? Horrible.
Ok, back to Christi's story. Since Christi never filed any kind of report there are likely some people who question whether or not that is just conjecture – which is fair. But, for what it's worth Christi also told her cousin, Debbie Frederickson, that she had been abused by Mark. Apparently, Debbie had visited Christi while she was working at the bar and Christi showed Debbie a bruise on her side that she had gotten from a recent beating from Mark.
Now let's talk about the days immediately preceding Christi's disappearance. On December 9, two days before Christi vanished, she went to an attorney to begin… divorce proceedings. First things first, she went to a lawyer that was from out of town because she was petrified that Mark was going to find out and be mad. So, she went to a man named Claude Berreckman. Christi talked to Claude and told him about the abuse she had been subjected to and even showed a bruise on her arm. They actually decided to call the authorities and report the crimes that had taken place. I'm not 100% sure whether or not that call was ever made. I will say, when she left, Christi made an appointment to come back to Claude's office the following week.
The next day, on December 10, Christi and Mark went Christmas shopping with their children. This was the last afternoon she would spend with her family. He claimed to have felt uncomfortable that day because he "felt a lot of anger" coming from her. But, interestingly enough, years later it was found that this same day Christi met with a domestic violence counselor. Sources say that when Mark found out, he was "furious" and told her that she would not get to see her children again unless she stopped visiting the counselor and stopped talking about the abuse.
And now we arrive at the night that Christi was last seen alive. Here's Mark's strange, strange version of the story:
Christi went to bed immediately after Diane left. The last time he claimed to have seen her was at 2 a.m., when he went to sleep beside her. Floating away to sweet sweet dreams on their water bed.
At around 7 a.m. he said the kids woke him up and when he rolled over (probably struggling to do so because he was on a small body of water), she was not there in the bed. He looked around the house to see if he could find her and then noticed… gasp!.. her suitcase was missing as were many of her belongings! Interestingly enough, he was later able to tell the police EXACTLY what pieces of clothing were missing from her closet. I don't even know what all is in MY closet, let alone someone else's… seems suss.
Oh, PS, she took a suitcase and left, apparently, but both of the family's cars were still in the driveway.
At around 9:30 a.m., Mark got a phone call from Christi's mom Connie. Here's where his story starts to crumble. By now he knew Christi was gone… but he told her mom that she was still sleeping. Why tell this lie?? Well, apparently he did not want to worry Connie. Of course, Connie had that mother's intuition that something was wrong… and she called a social worker to go do a well-check. When that social worker called, Mark told them that Christi was out shopping, which he claimed he said because he didn't know who was calling and didn't want to admit to a stranger on the phone that he didn't know where his wife was.
Mark's stories are already seemingly spiraling out of control.
Next, at around 11:30 a.m., Mark took the kids over to Christi's grandmother Violet's house. He showed up without warning, which threw the grandma off because normally they'd call in advance. But, Mark basically just said, "Christi is missing, watch the kids" and took off. Oddly, Violent realized that Mark never even bother to ask if maybe Christi was there or if Violet knew where Christi was. Which to me just screams… "I don't need to ask, I already know she is dead in the trunk of my car."
Apparently then Mark spent the next two hours driving around town trying "to spot her." Yep, he was just aimlessly driving around hoping he would see her walking out of a store or a friend's house. Side note: when investigators checked into his story of driving around town looking for her, they couldn't find a damn soul in Gothenburg that had seen him doing so.. and remember, Gothenburg is a small, small town. Like 3000 people. IN that size of town everyone knows everyone, knows what you drive, knows where you live, and spend a great deal of time sitting around observing things. So it isn't like if I were to say "I don't know, I never saw my dad driving around Omaha today."
Finally, at 1:37 p.m., Mark filed a missing person's report with the Gothenburg police department.
He called them up and said, he was pretty sure Christi left voluntarily but he figured he better report it nonetheless. He said that Christi was seeing another man because "she was lonely and needed someone to talk to". But, I guess police never considered him a suspect. I couldn't find any information about who it was or if it was true, to be honest. But Mark kind of waffled between she left with her boyfriend and she left because of their marital difficulties and the "pressures of motherhood".
Apparently she had threatened to divorce him several times before her disappearance and even left a letter to her boyfriend in one of their cars saying that she was considering leaving her children and husband. Interestingly, another source said the letter actually said she was planning to leave town after Christmas, which could easily just mean that she was going on a trip or whatever. Apparently, lab tests did confirm that it was in her handwriting.
Now, Christi's people did not think it was even remotely possible that she just left and abandoned her children. Those who knew her well felt her life centered around her family. She was not a confident woman and had a bad self-image but she was confident in one thing that she did: her children. She was very proud of them and loved them. Most people say it is just impossible that she would have left without them.
SO, the Nebraska State Patrol was called in. Officer Terry Ahrens was put in charge of the case and he thought it looked a bit like foul play. As the police investigated, they began to uncover a few things.
First, they looked around the home. She took a suitcase with a few things – a few things that Mark was able to detail exactly. But she didn't take any makeup, her Social Security card, or her wedding rings. She also did not pick up her last paycheck. Then Mark did something that every innocent person does… he moved out of their house the day after her disappearance.
A few weeks later, he boxed up all of her clothes and sold both of their cars.
In March 1988, three months after Christie's disappearance, her suitcase and purse were discovered in a roadside rest area thirty miles west of Gothenburg. Remember how Mark seemed to be able to pick out exactly what was missing from her closet? Shocker, everything he mentioned was inside! Oddly, investigators felt like the suitcase was just kind of laid down in the grass on the side of the road, not thrown out. Everything was just neatly laying around, like the person that put them there wanted them to be found.
Of course, the police consider Mark the prime suspect in Christi's disappearance. They've searched the entire area surrounding Gothenburg extensively but no trace of Christi has ever been found. And, without a body, it would be difficult to actually file charges. And of course, Mark continues to maintain his innocence. There is an old unsolved mysteries episode that covers this case and Mark is interviewed in it and I'll just say one thing… he's god DEAD ASS eyes. And a stupid face. Also weird hair. Plus, one of those mouths that are always perpetually slightly open like duuuhhhh.
So, what other evidence is there? Well, there was a bloodstain the size of a coffee saucer found in her and Mark's bedroom shortly after her disappearance. More blood was found in the trunk of Mark's car. In the early 2000s, DNA testing confirmed that it was Christi's. Of course, Mark claimed that it was menstrual blood, but an analysis determined that this was not true. Unfortunately, not enough blood was found to indicate that she was deceased.
Now there are rumors on top of rumors in Gothenburg about what happened. There were rumors that said that he had chopped her up, put her in garbage bags, and buried her at the dump. According to him, people even went to the dump and dug around, looking for her.
There was also a major construction project in Gothenburg at the time. They built two overpasses and some people close to the case, including her father Kenneth, have speculated that she may have been dumped in the gravel fill, as it was uncovered at the time. Another thought is that Mark's parents had a concrete pad poured on their property a few days after she vanished. It is not known if either area was ever searched. Why didn't the police do more? Well, some say it was because Mark's family was close to the Gothenburg police chief, Bob Shackleton.
In fact, here's a little special insight that I found on a blog by someone who spoke directly to cousins and people in Gothenburg:
These people shared that the day after her legal appointment she went to work at the bar and then later went to pick up the kids from Mark's parent's house. But then the grandparents said that she can't take the kids with her because Mark had found out about the lawyer she visited and was livid.
Christi was panicked at the thought of not having her children and contacted the police and tried to file a police report but Bob Shackleton told her Mark had the right to withhold them from her. She was also told to leave the property and if she returned again, she'd be arrested. This was apparently the 3rd time that day alone Police Chief Shackleton had harassed Christi. He had also confronted her at the Jack & Jill store (according to the clerk who witnessed it) as well as on the street (which the Chief later admitted to Connie) telling her something to the effect that she needed to 'get her act together with this thing with Mark'.
Christi was frantic by now because she just wanted to get her kids back. So she calls her mom in a panic and she says she will come over with her husband, Christi's stepfather but Christi says not to come because she thought maybe her protective stepfather would hurt Mark and get himself in trouble.
The next day, December 10th, 1987, Christi called her mom and tells her Mark brought the children back but he now has a list of ridiculous demands that she had to agree to in order to get them back. Some of them were the length of miles she could travel, he said he had taken her name off the bank accounts so she had no money and she had to stop the divorce proceedings. She wasn't allowed to take the children anywhere and he told her if she left town she would be arrested (which, given how Shackleton had treated her thus far she knew that was true) and would never see her children again.
To his face, Christi agreed to his demands so she could have Lindsay and Preston back but told her mother she would not be following Mark's rules. Instead, Christi went to meet with the abuse counselor later that day. Unfortunately, the abuse counselor met with Christi in, of all places, Police Chief Bob Shackleton's office. So, once again, Mark was probably alerted as to what Christi was up to. The abuse counselor wasn't able to divulge everything about their meeting as it was confidential, but she did tell Connie that Christi needed to get out of the abusive situation she was in and she had wanted her to go a shelter that night. But Christi declined and said she'd get her children and be back the next day to go to the safe house. Of course, that did not happen because the next day she disappeared forever.
Sounds to me like the police royally FUCKED Christi over and helped Mark get away with it. Amiright?
Anywho, in April 1990, Mark divorced Christie. He left Gothenburg a few years later. He now lives in Arkansas and is married for the third time. At first, their children lived in foster care. Then, they were with both sets of grandparents. After that, they were sent to live with him. Sadly, Mark does not let Christi's family see the children.
To wrap up this story I wanted to share a listener email from Shandell, who recommended this story and has lived in Gothenburg for the last 7 years! So this really, really is a hometown story.
Hey Em!

As a resident of Gothenburg for the last 7 years, this case is still on the tip of the tongue of many residents of the community.  I use to work with a gal that had grown up in Gothenburg her whole life and could recall details of the investigation, including the accounts of the babysitter that was watching the kids while Mark and Christi were at the bar. 

She had told her that she never really got over the whole situation and knew in her heart that Christi did not come home with Mark that night. Of course with any open case, there are many theories from the folks around town-the first one, (and the most popular) being that Mark's dad worked for the local concrete company and they were working on a major viaduct over the highway that runs through Gothenburg. 

Local folklore is that Mark and his dad buried her body under the concrete in that overpass and people still say her name as they drive over it.  Other theories include gruesome tales of a concrete chipper and putting her body in trash bags at the dump.  Others say she is buried under a concrete pad that was recently poured in their backyard shortly before Mark sold the house. 

No one locally believes that Christi ran away, but that Mark had something to do with her disappearance, and even her death.  Her kids still reach out on the local For Sale Gothenburg page asking for information on Christi's disappearance, begging and pleading for some closure. 

It's incredibly sad and the people of Gothenburg want to put the folklore to rest and to help find out what happened.  Unfortunately, at the time the Nebraska State Patrol didn't have proper training on how to handle the investigation.  They ended up and botched the evidence and it was admissible. Mark selling the cars, her belongings, and the house were major red flags that the NSP mishandled. It is said today that the NSP actually uses Christi's case in training for improperly handled evidence and how not to conduct an investigation.  Christi is not forgotten and her memory resonates throughout the town.  With all good intentions, people have tried for years to help find her.  

Please let me know if you need anything else!

-Shandell
And that is the story of the unsolved disappearance of Christi Nichols in Gothenburg, Nebraska.
Source